There are a number of different support options available to you whether it be by phone, email, or a live online chat with one of our support specialists. Support is available at all times and there is not limit to the amount of questions you may have large or small.

No matter the issue, support is easily accessible. You may access the support options from the login screen above, by simply clicking on the support link found in the top right hand corner.

Once you have successfully identified yourself and have proceeded through the log in process, at all times during your training session you will continue to have access to our support options. As was in the log in process, you would simply click on the support link from the top right hand corner of the screen for the options to present themselves.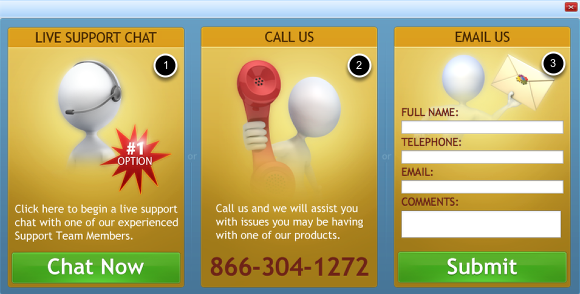 When seeking support, the above dialog will present itself and provide you with the support options available. You may chose any one of the options to your liking whichever best suits your needs at the time.
The first option available is our Live Support Chat which is the most popular choice available. By selecting this medium, you will instantly be connected to one of our support specialists where you will be able to engage him or her in an instant chat dialogue; OR
Always available to you is a live operator should you want to call us; OR
If your inquiry is of a less urgent nature, you may chose to email us by filling out the form along with your comment, or you may submit an email directly to us via support@ourtrainingroom.com.
No matter your preference, there is a support option available to you with a professional support specialist able to assist.